Get Ready for the 2024 Idaho Sled Dog Challenge
Official Iditarod & Yukon Quest Qualifier
Schedule of Events
Is Iditarod on your bucket list? Here's your opportunity!

Wina 5-day guided adventure tour at the 2024 Iditarod – click for more details and to get your raffle tickets!

SPONSOR
Donate to this incredible event!  Monetary as well as equipment, resources and other donations are appreciated.  Contact us for more details
VOLUNTEER
The Volunteer Sign Up form is now online.  Please review race schedules (shown below) and volunteer descriptions (see volunteer tab in menu for more info) prior to signing up!
2023 PHOTO GALLERY
2023 galleries are now available for viewing or purchasing!
Photography courtesy of Melissa Shelby and Siri Raitto.
Idaho Sled Dog Challenge
The Running of the Idaho Sled Dog Challenge (ISDC) includes three races.  The premier event is the 300 mile race,  an Iditarod and Yukon Quest qualifier.  Many participants in this race are also competing in the Rocky Mountain Triple Crown.  Participating races include ISDC, Oregon's Eagle Cap Extreme and Montana's Race To The Sky.
In 2023 we added the two day 26 mile Warm Lake Stage Race.
JAN 20, 2024
Meet the Mushers
Ponderosa Center
1117 E Lake St, McCall, Idaho
JAN 24-25, 2024
Warm Lake Stage Race
North Shore Lodge & Resort
Jan 28, 2024
Ceremonial Start
McCall Activity Barn
JAN 29, 2024
300 Mile Race Start
Lake Cascade State Park Boat Ramp

100 Mile Race Start
Lake Cascade State Park Boat Ramp
JAN 30, 2024
100 Mile Race Finish
WYE Campground Checkpoint
Jan 31 - Feb 1, 2024
300 Mile Race Finish
Lake Cascade State Park Boat Ramp
CHECKPOINTS
Experience the Adventure!
See the race from all of our road-accessible checkpoints.
Lake Cascade, Platt Warming Hut, Little Ski Hill, WYE Campground, Smiths Ferry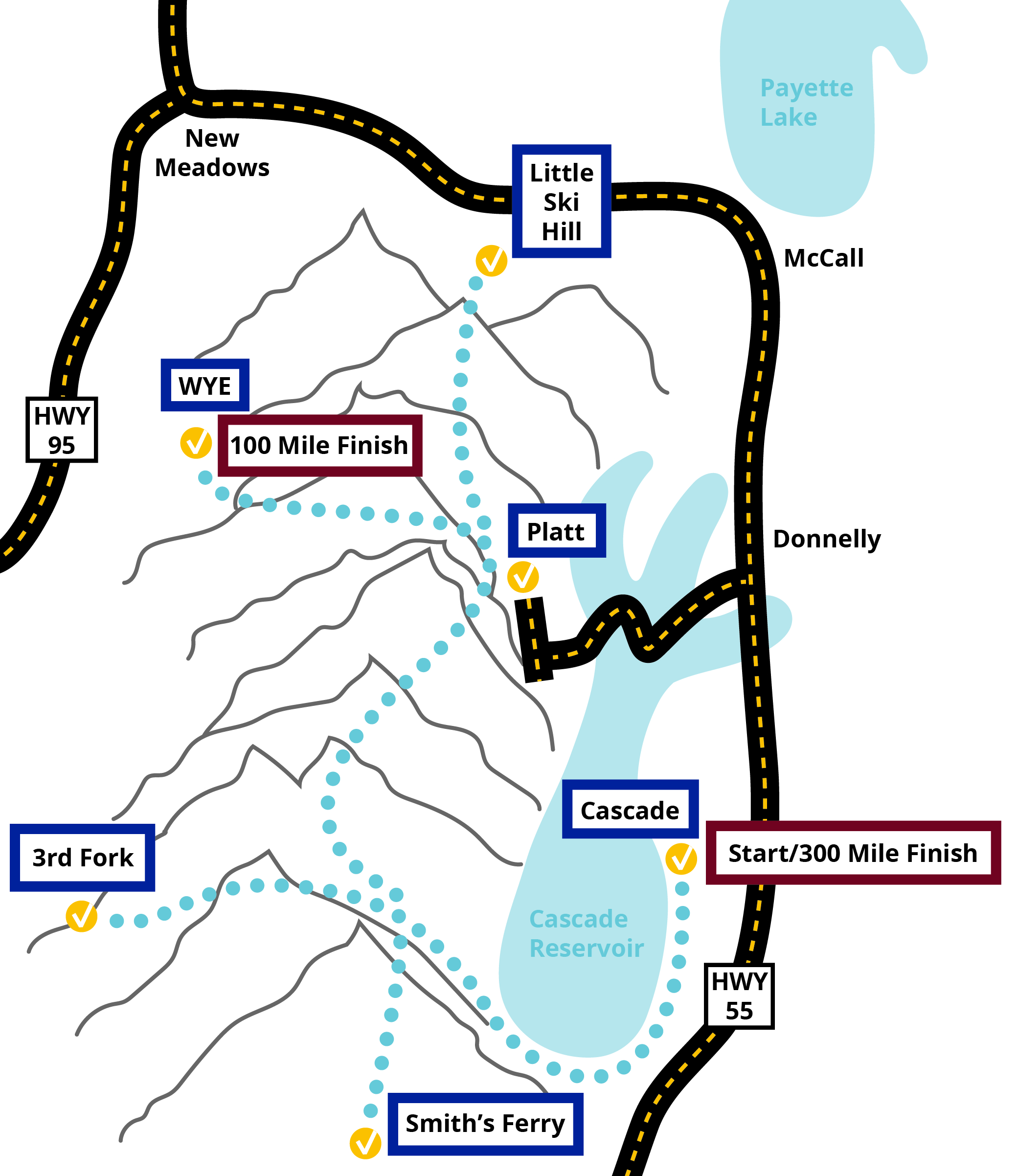 View the 2022 Race Gallery
photos credit Melissa Shelby Photography