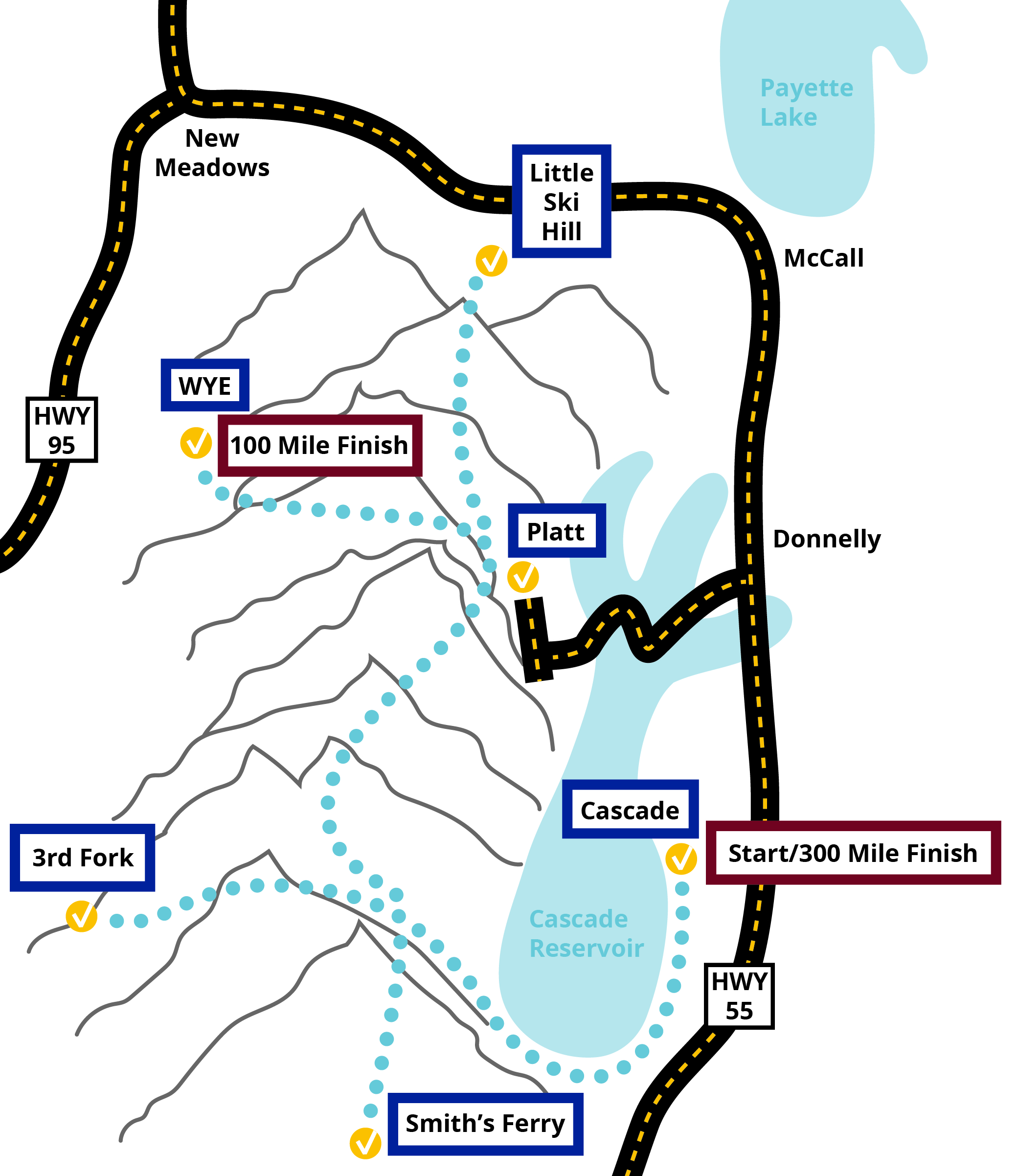 TRAIL AND DRIVING OVERVIEW
Check out this map to get a birds-eye view of where the dog teams travel through the mountains to get from one checkpoint to another. Driving routes are also shown partially circumventing the mountains.
Start in Cascade and choose your checkpoint locations from there based upon race routes (100, 300, or Warm Lake Stage Race) and checkpoint layovers or other fun details.
The LIVE TRACKER which will be online here during the race will be your best tool for following each team's GPS trackers as they travel down the trail or hunker down in a checkpoint.
300 Mile Race Checkpoints
Start: Cascade
3rd Fork
Smiths Ferry
3rd Fork
Cascade
mandatory 6-hour layover
WYE
Platt
Finish: Cascade
100 Mile Race Checkpoints
Start: Cascade
Platt
Little Ski Hill
mandatory minimum 3-hour layover
Finish: WYE
Warm Lake Stage Race Checkpoint
North Shore Lodge Warm Lake
The 100-mile & 300-mile races start at Lake Cascade Boat Ramp.  The Warm Lake Stage Race starts and finishes at the North Shore Lodge & Resort. The 100-mile race finishes at the WYE checkpoint. The 300-mile race finishes back at the Lake Cascade Boat Ramp.
100-mile & 300-mile checkpoints include Wye Campground in New Meadows, Platt Checkpoint in Donelly, Smith's Ferry and a remote checkpoint at 3rd Fork Cabin (not accessible by road).
To best immerse yourself in the entire race experience, visiting a checkpoint is a must! Each has a unique atmosphere and band of volunteers to make your race experience a highlight!
Be sure to check out LIVE TRACKER (link on the front of our website) which uses GPS trackers to better plan your arrival at checkpoints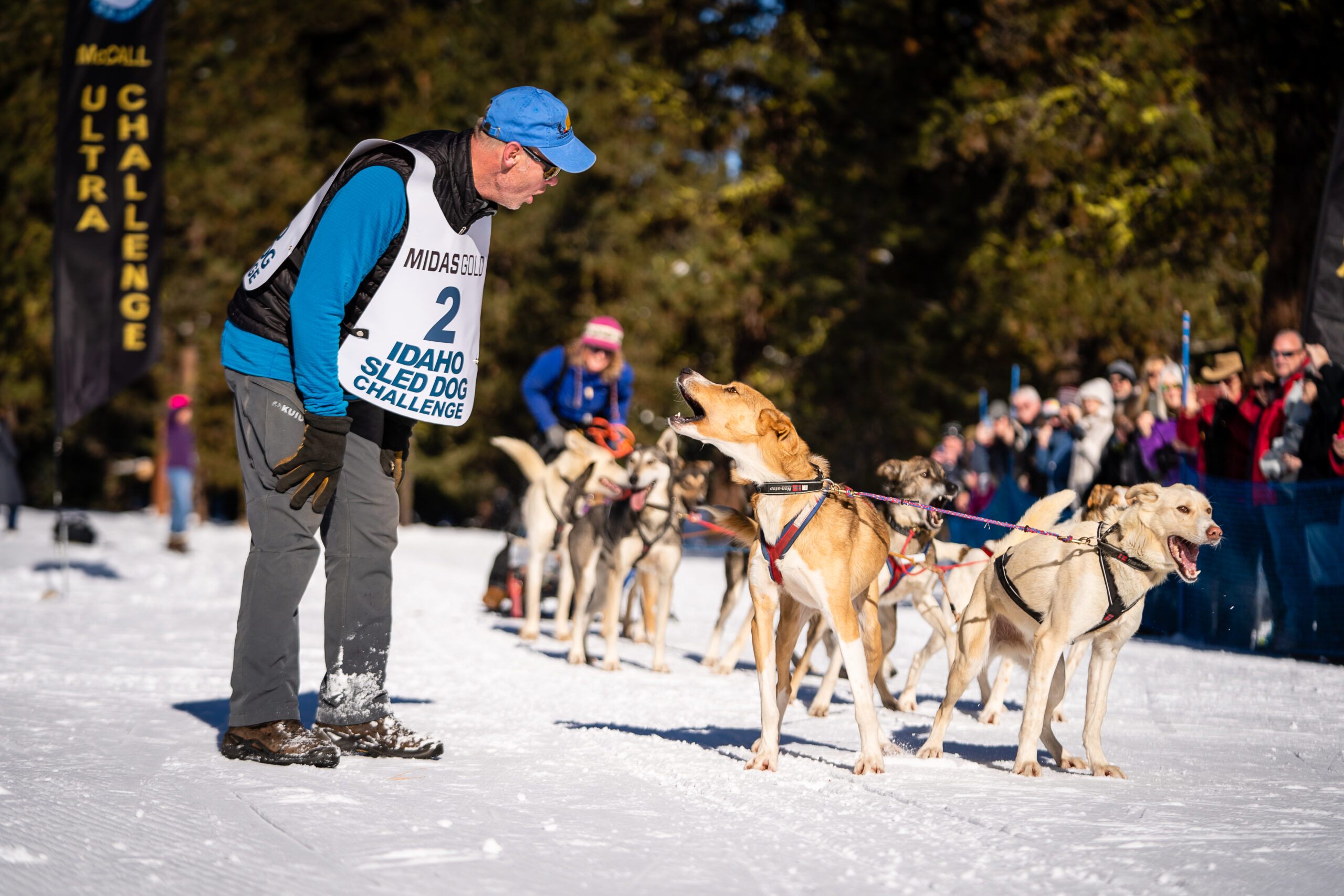 For the full experience, we encourage Race Fans to visit checkpoints as the race progresses. Likely times to visit checkpoints are below. Watch trackers on the ISDC website to verify.
North Shore Lodge
Cascade
Platt
Little Ski Hill
WYE
Smiths Ferry
Third Fork
Snowmobile Only

Jan 24: All Day

Jan 25: All Day

Jan 29: 9am-3pm

Jan 30: All Day

Feb 1: All Day

Jan 29: Evening

Feb 1: All Day

Jan 29: Late Evening

Jan 30: Early Morning

Jan 30: Early Morning

Jan 31: Early Morning

Jan 29: Early Evening

Jan 29: Mid-Afternoon

Jan 30: Early Morning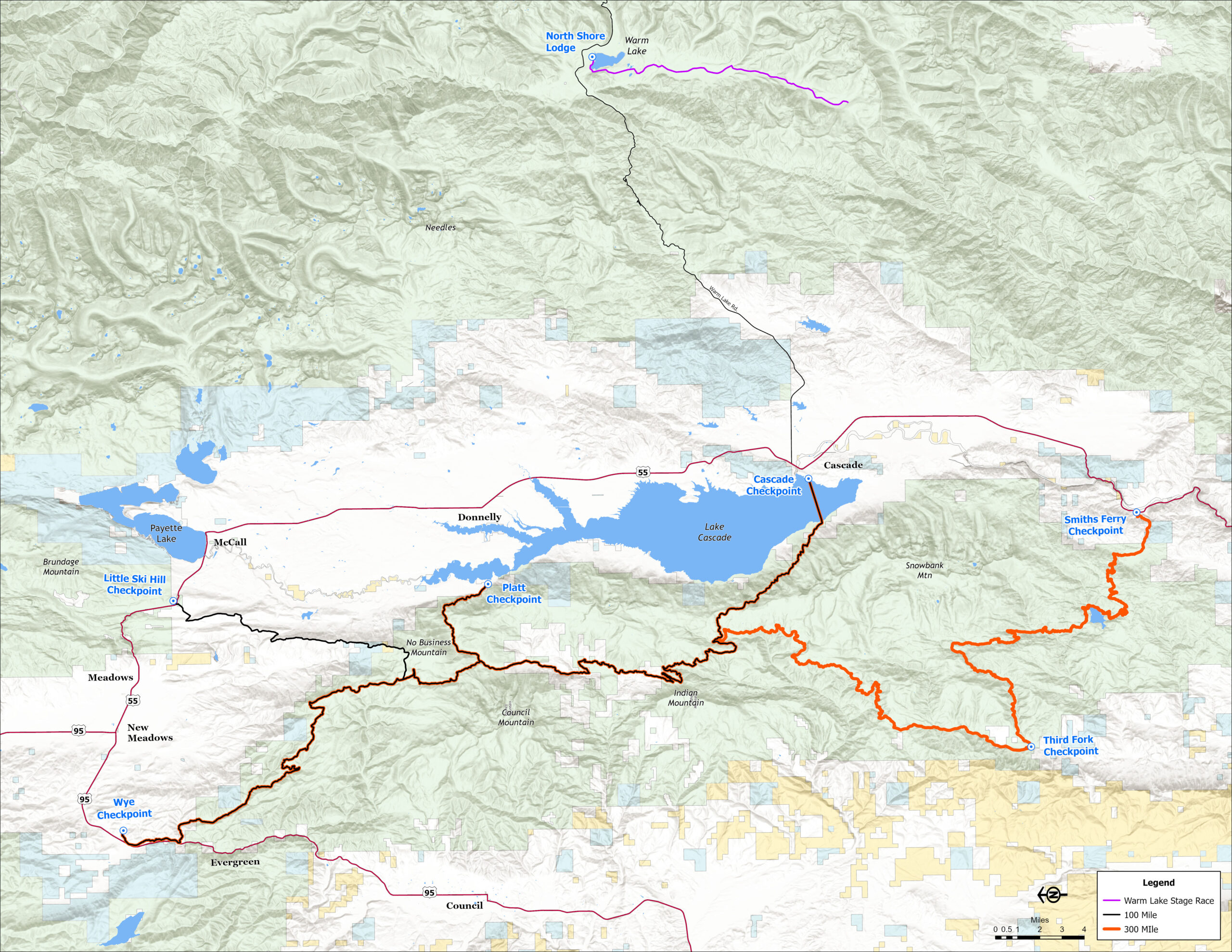 CASCADE LAKE CHECKPOINT
This checkpoint is at the eastern shore of Cascade Lake in Cascade Lake State Park. The boat ramp parking will be reserved for Mushers and their dog trucks. This is a great opportunity to see the Start and Finish as well as the long travel of the teams along the shores of Cascade Lake.
Driving Directions: From N Main Street in Cascade go south on Old State Hwy ½ mile to the lake shore. The checkpoint will be in the park on the right side of the boat ramp. Parking for the race start will be at the Davis Ranch just north of Cascade on Warm Lake Road with Shuttle Service to the Cascade Boat Ramp
LITTLE SKI HILL
The Little Ski Hill, 3635 Hwy 55, McCall, ID
Driving directions: From downtown McCall, ID take HWY 55 approximately 2.5 miles towards New Meadows. The Little Ski Hill will be on your left.
PLATT WARMING HUTT CHECKPOINT
A combination warming hut and groomer garage at the intersection of
West Mountain Road and No Business Rd.
Teams will be parked in an open field across the road east of the warming hut.
Driving Directions: From Donnelly go west 3.7 miles on Roseberry Rd. to T intersection at West Mountain Rd.  Turn right on West Mountain Rd. and go north 0.7 mile, turn right on West Wood Dr and proceed 0.6 miles to rejoin West Mountain Rd. Turn left on West Mountain Rd and park facing south. Walk 100 yards north to Platt Checkpoint.
3RD FORK CABIN CHECKPOINT (REMOTE)
Remote Backcountry Access Only.
A remote checkpoint only accessed via snowmobile.
WARM LAKE STAGE RACE CHECKPOINT
The Warm Lake Checkpoint is located at the North Shore Lodge, Warm Lake.
The Warm Lake Stage Race is a two-day event, starting and finishing each day at the North Shore Lodge.
Driving instructions:  Hwy 55 one half mile north of Cascade, East on Warm Lake Road 26.4 mile
WYE TRAILHEAD & CAMPGROUND CHECKPOINT
100 Mile Race Finish
Tamarack View Dr. off Hwy 95
New Meadows, ID
A campground at the north end of the Weiser River Trail.
This will be a Tent setup with electricity.
Driving directions: From New Meadows go west six miles on Hwy 95 and turn left at Tamarack View Dr. and WYE Campground sign, then follow the road east 1/2 mile to the checkpoint.
SMITH'S FERRY CHECKPOINT
The checkpoint is at Wellington Snow Park and has ample parking.
Driving Directions: From McCall take HWY 55 south 48 miles. The checkpoint is on the west side of the highway 1/8th mile south of Cougar Mountain Lodge
View the 2022 Race Gallery
photos credit Melissa Shelby Photography